2023 Anja Niedringhaus Courage In Photojournalism Award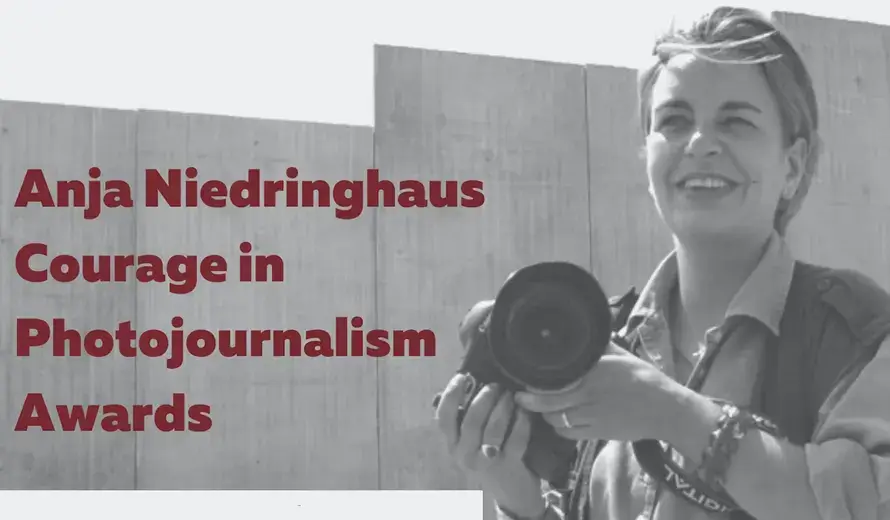 2023 Anja Niedringhaus Courage In Photojournalism Award now is over!
The Anja Niedringhaus Courage in Photojournalism Award, has been recently announced for entries, celebrating every year the courageous work of women photojournalists worldwide.
About Competition
The Anja Niedringhaus Courage in Photojournalism Award now is calling for entries!

The Anja Niedringhaus Courage in Photojournalism Award was created to honor the life and work of Pulitzer Prize-winning AP photographer and IWMF Courage in Journalism Award winner Anja Niedringhaus (1965-2014), with a generous 1 Million USD gift from the Howard G. Buffett Foundation.

With this Award, the IWMF celebrates the courageous work of women photojournalists like Anja who inspire us to take action and better understand the world. This courageous work manifests in many different forms which may include but is not limited to conflict or frontline reporting.

A candidate may either self-nominate or be nominated by an editor, mentor or journalist peer.

Each nomination and application must include candidate information, work samples made up of a series of 12 photographs, and a candidate/nomination statement. Six (6) of the photos must have been taken within the past two years (2021-2023). The other six can be taken at any time during the candidate's career.
Submission requirements
➜ The required work samples are 12 photographs that best represent the scope and style of the candidate's work, within the context of challenging reporting environments.

➜ The submission cannot include videos, art photography, illustrations, images with watermarks, photo grids (multiple photos within one image), text overlaid onto or next to the photograph, and photographs not taken by the photographer. Submissions with these elements will not be considered.

➜ Image size: minimum 1500px on the longest dimension (22.5 inches @ 72 dpi, JPG format)

➜ Each photograph must be accompanied by a caption describing the date, place, and situation captured.

➜ Submissions must include an up-to-500 words candidate/nomination statement written in English.
Evaluation Criteria
➜ Quality of photography
➜ Composition of portfolio
➜ Storytelling ability
➜ Conditions under which the journalist worked
➜ Candidate statement
➜ Reflection of Anja Niedringhaus's values
Eligibility
The award is open to >STRONG>women, nonbinary and gender nonconforming journalists.>/STRONG> The candidate must be working as a journalist full-time, and journalism must be their primary profession. Both freelance journalists and those affiliated with media organizations are eligible.
Prize
Recipients of the Courage in Photojournalism Award will receive a cash prize of $20,000 and have their work showcased during an award ceremony.
Entry fees

There is no entry fee to participate!
Tags
Official website