China Hardware Products International Design Competition 2023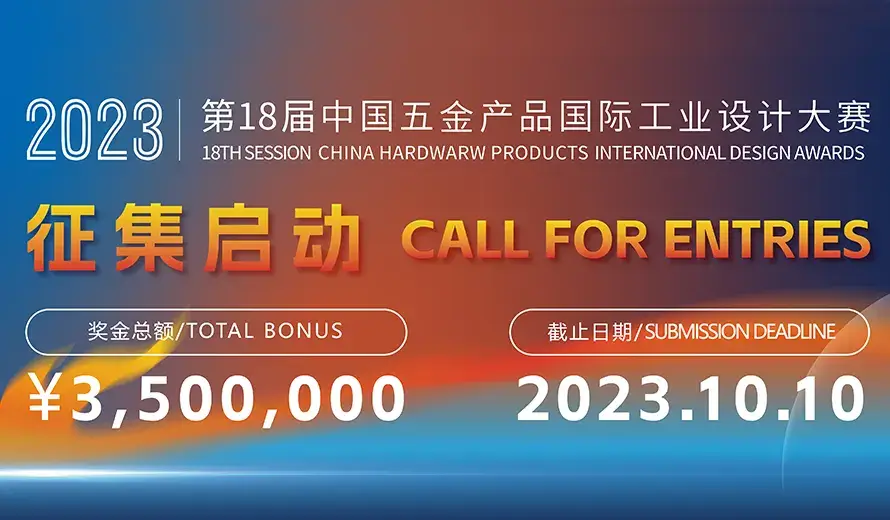 China Hardware Products International Design Competition 2023 is now open for entries!
China Hardware Products International Design Competition 2023: The China Hardware Products International Design Competition 2023 is now open for entries in its 18th edition and like every year invites designers from all around the world to participate in order to improve innovative design ability of hardware and promote hardware product development in China.
About Competition
The 2023 China Hardware Products International Design Competition, now in its 18th edition is open for entries inviting designers from all around the world to participate.

China Hardware Product International Design Competition has been held for 17 years since its foundation in 2006. As an international design competition, it attracts participation of designers from dozens of colleges and universities, design companies as well as independent designers from more than 20 countries and regions around the world.

The theme for 2023 edition is "Ignite – Create".

Entries are accepted in the following competition categories:

➜ Gold Star Award in the Product Category – Designs with outstanding commercial and social value that can be rapidly industrialised to attract outstanding innovative projects and innovation teams for deep integration into the Yongkang manufacturing industry.

➜ Creative Sub-Competitions

1. "Feijian Cup" Health Cup and Pot Design – Cups/pots, coffee/tea cups and pots, wellness pots, sports cups and pots; designed around elements such as technology, health, intelligence, fashion and trendiness. Materials are titanium, stainless steel, glass, plastic and other healthy food-grade materials; easy to manufacture and produce, in line with the concept of environmental protection, and with commercial or artistic value are required.

2. "QingMu Cup" Outdoor Leisure Products Design – Mainly include outdoor folding tables and chairs, folding beds, outdoor folding trolleys and other products made of but not limited to pure aluminium, solid wood, iron + wood, iron pipe, aviation aluminium, carbon fibre, stainless steel, oxford cloth, canvas and so on. The design requirements are light and easy to carry, simple and high end, easy to manufacture and ergonomic.

2. "RongYa Cup" Multi-functional Metal Shed / GreenHouse Design – Metal sheds, pergolas, carports, gardening rooms, sunrooms, flower rooms, tool rooms, pet rooms and other quick-disassembly housing/roof products. It is required to expand the richer and diversified use scenarios, and the corresponding functional.

3. "Jinlin Cup" Sports and Leisure Vehicle Design – Leisure racing electric bikes and road leisure assisted bikes; the products can be used on two or four wheels, on closed roads or off-road, to meet the function of sports and recreation, and leisure. New and ergonomic design is required.

4. "Tianxin Cup" Children's Trampoline Design – Trampoline for children, for both indoor and outdoor use scenarios. It is required to have a novel appearance, to adopt a colour scheme and aesthetic needs in line with children's preferences, to comply with ergonomics and to ensure the fun and safety of the movement.

Note! Entry opens 1 June 2023 and you can submit your proposal until 10 October 2023.
Submission requirements
➜ Entries must be original works of the participant.

➜ Format of the entry: JPG file, A2 (420mm*594mm), 300dpi, vertical version, no more than 5M. One entry is limites to 1 layout.

➜ The entry layout is composed by the following contents: category of competition, more than two main views of the product, design instruction, title of the entry.
Eligibility
This competition is open to all enterprises, colleges, institutions and individuals. If participating in groups, each group of designers should not exceed 3 people.
Prize
The 18th China Hardware International Industrial Design Competition in 2023, with the theme of "Ignite – Create", includes 1 Golden Star Awards in the product category and 5 sub-contests in the creativity category, with a total prize money of ¥3.500.000 (RMB).
Entry fees

There is no entry fee to participate!
Tags
Official website
Official Website