LOOP Design Awards 2022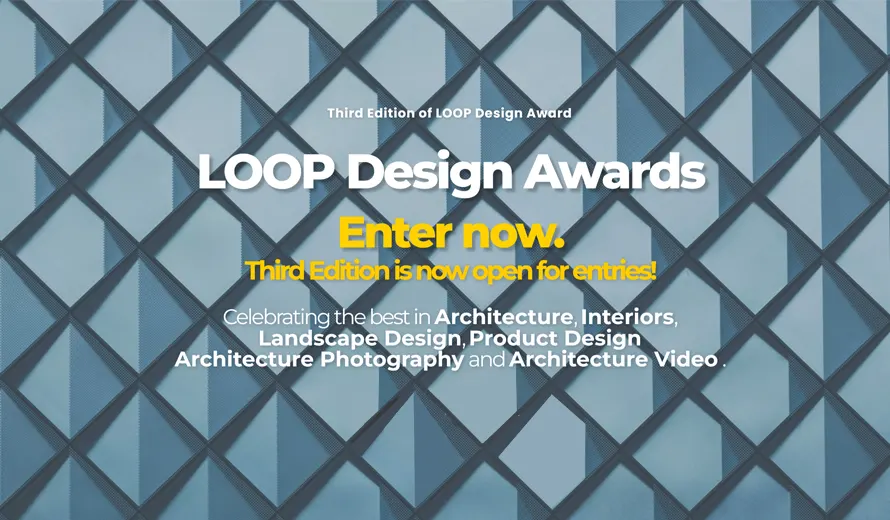 LOOP Design Awards 2022 now is over!
The third edition of the LOOP Design Awards 2022, international competition has been recently opened for entries accepting works from all creatives and talents, on a global level, giving them great visibility.
About Competition
LOOP Design Awards 2022 is now open for entries inviting all designers, creatives, photographers and individuals involved in architecture, interior design, landscape design, product design, and architecture photography to participate.

As an annual award, the LOOP Design Awards intends to become one of the most prestigious and recognized Design awards, in the fields of Architecture, Interiors, Landscape, Product, Architectural Photography and Architecture Video.

LOOP is an open platform for creativity and talent. The organizers want to celebrate and honor diversity with remarkable works globally.

This year you can submit your works into 110 competition categories falling into following main disciplines: Architecture, Interior Design, Landscape Design, Product Design and Architecture Photography. The third edition introduces the Best Firm Awards, special Themed categories and Architectural Video.

All the Architecture, Interior and Product entries submitted to LOOP must be projects completed in the past 5 years. The only exception are the categories 'Concept and Unbuild' for projects that are still in the concept phase or were never built. Landscape Design entries must be projects finished in the past 10 years. Architecture Photography and Video are not time limited.

Winners are selected by the Honorable and prestigious Jury of Architects, Interior Designers, Professors, Editors, Photographers and Researchers.
Submission requirements
➜ Each entry submission may upload up to 8 images.

➜ Submitted images must not exceed 3MB per file and be no more than 3000 pixels on the longest side. Images must be saved as JPEGs (.jpg, .jpeg) or PNGs (.png).

➜ All entries should include images that best illustrate your work, along with a clear and short description.
Eligibility
The competition is open to all professionals involved in Architecture Design, Interior Design, Landscape Design, Product Design, Architecture Photography and Architecture Video. Student entries are accepted for submission only in the Concept & Unbuilt Category. Professional entries are accepted in all of the award categories.
Prize
The main winners of the LOOP Design Awards are eligible to receive the Winners Trophy, with their entries highlighted and feature on LOOP Design Awards Winners directory throughout the coming year and a lifetime customized winner page.

Winning the LOOP Design Awards is a great achievement that will bring you prestige and international recognition. Your company will be able to reach new international audiences, clients or press members.
Entry fees
➜ Super Early Bird fee (January 2022) - 80€
➜ Early Bird Fee – (February and March 2022) - 100€
➜ Regular Fee – (April, May and June 2022) – 150€
➜ Late Registration Fee – (July 2022) – 200€
Tags
Official website