MUSE Design Awards: Season 2 2023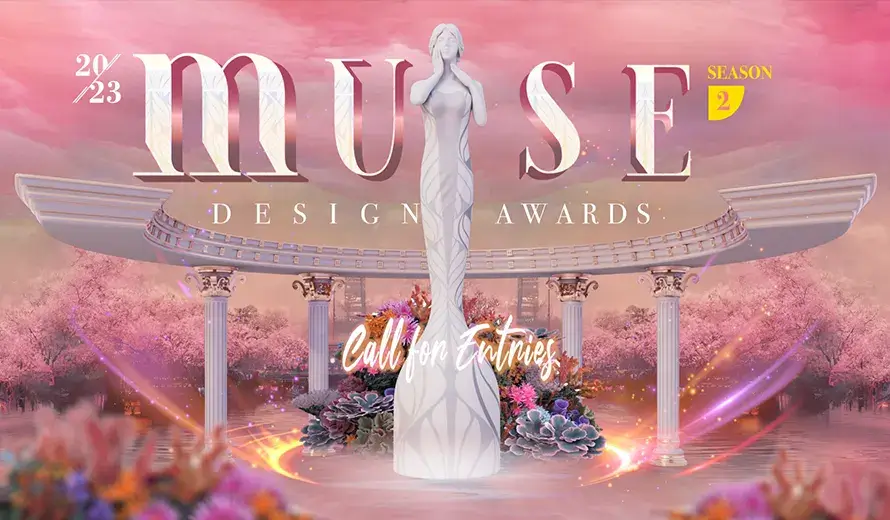 MUSE Design Awards: Season 2 2023 now is over!
The second season of the MUSE Design Awards for 2023, organized by International Awards Associate Inc (IAA), an international competition for designers and creative professionals whose craftsmanship shift paradigms, ideas or designs, has been recenty announced for entries.
About Competition
The MUSE Design Awards has been recently opened for entries in its second session for 2023 is an international competition for designers for creative professionals whose craftsmanship shift paradigms.

The award honors design professionals of various expertise, from architectural design, interior design, product design, fashion design, transportation design, packaging design, furniture design, conceptual design, lighting design to landscape design, whose works shoulder the weight of the future, despite the unknown.

The 2023 Categories include: Architectural Design, Interior Design, Product Design, Furniture Design, Landscape Design, Lighting Design, Packaging Design, Concept Design, Transportation Design, etc.

Judges are senior-level, experienced in their field/industry, including creative designers and art directors from international agencies, architects, fashion designers, interior designers, product designers, educators, marketers or business owners. Judges are selected based on experience, credibility and availability.
Submission requirements
➜ Entries must be produced within the last FIVE (5) calendar years up through the final deadline.

➜ All entries must be submitted for judging exactly as published or implemented and may not be modified for the competition. The MUSE Design Awards may request proof of initial production and/or publication date.

Entry Brief:
It is recommended that you keep your synopsis to approximately 350 words. Organiser suggests you utilize this section of your entry to elaborate on the piece as well as the creativity and originality of your idea. The brief should strengthen your entry, as well as providing the jury a better understanding of your project. A written translation or adaptation must accompany non-English entries.

Image Submission:
- The submissions should be saved in a flattened JPEG or JPG format. (keep them under 4MB, 1,200px wide is preferable, 300dpi, RGB).
Evaluation Criteria
➜ Creativity / Concept / Idea
➜ Content / Brief / Objective / Planning / Execution
➜ Visual / Design
➜ Quality / Functionality / Sustainability
➜ Overall Impression / Wow! Factor / Memorable
Eligibility
The MUSE Design Awards is open worldwide to: Advertising Agencies, Architects, Builders, Brand / Business Owner, Car Designers, Creative Boutiques, Design firms, Engineers, Fashion Designers, Freelance Professionals, Furniture Design, Graphic Designers, In-house Marketing, Interactive Agencies, Interior Designers, Landscape Designers, Product Designers, Students, and anyone aged 18 and above residing anywhere in the world.
Prize
There are THREE (3) levels of achievement in the competition: Platinum MUSE, Gold MUSE and Silver MUSE.

➜ The Design of the Year winners receive a complimentary limited-edition trophy and professionally designed certificate.
➜ One professionally designed certificate commemorating the winning entry, which includes entry title, entering company/winners' name and category. Decal will be affixed indicating the level of win.
➜ Top tier (Platinum and Gold) winners will be featured on MUSE Design Awards site's Gallery, where professionals can view your work.
➜ Professionally designed logos for use on websites, in email signatures, etc.
➜ Platinum and Gold winners will get featured by MUSE on social media or their media partner on Muse.World's website.
Entry fees
➜ Early Bird Entry - (Apr 14 - May 18, 2023) - $189
➜ Regular Entry - (May 19 - Jun 15, 2023) - $199
➜ Final Entry - (Jun 16 - Jul 13, 2023) - $219
➜ Final Extension Entry - (Jul 14 - Aug 17, 2023) - $229

Each entrant is charged a flat $30 annual administrative fee.
Tags
Official website