Pure Talents Contest 2024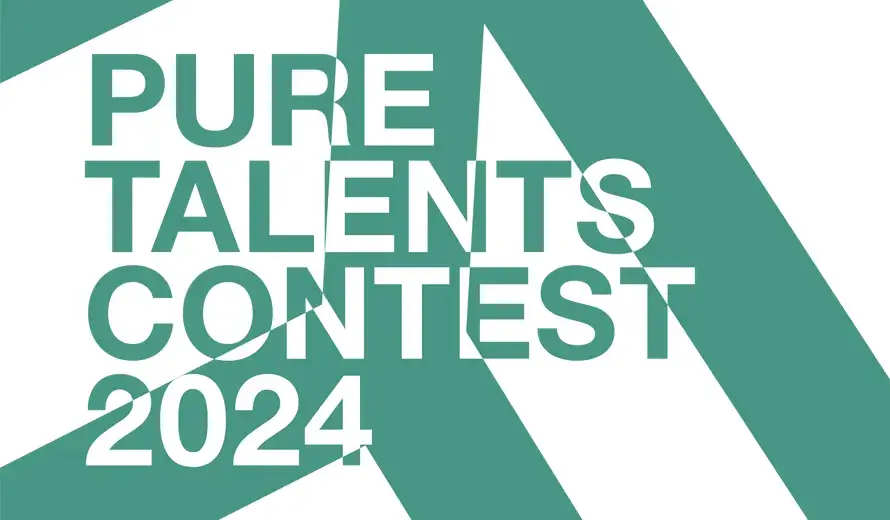 Pure Talents Contest 2024 is now open for entries!
Pure Talents Contest 2024: The Pure Talents Contest 2024, organised by Koelnmesse and hosted by imm cologne, one of the best known international design contest for young designers and the starting point for many of the chosen participants is currently accepting entries in its 19th edition.
About Competition
Pure Talents Contest organized by Koelnmesse and hosted by imm cologne is one of the best known and most highly recognised international design competition conceived exclusively for up-and-coming designers.

Koelnmesse's Pure Talents Contest celebrates outstanding design and promotes talented creatives who are shaping the future. The aim of the competition is to find promising designers who will have a lasting impact on global issues and the interior design industry.

THREE THEMES HAVE BEEN CHOSEN:

➜ Lifestyle and home living in cities with limited space
It's highly likely that 70 per cent of the world's population will live in cities by 2050. Because less and less residential property is available in metropolitan areas, more and more people are living in small spaces. Can minimalist living also offer certain freedoms? Responses to these themes may be submitted in the form of product designs and/or interior design concepts.

The jury will be looking for clever designs that will help people to live comfortably even within a small footprint – modular furniture and spaces that are both functional and flexible, giving us the freedom to adapt our surroundings to meet our needs.

➜ Lifestyle and home living in a circular society
The way resources are used in today's social and economic model largely follows linear paths. The linear product life cycle can be described in three words: make, use, waste. This approach leads to high levels of resource consumption and environmental pollution. To be more sustainable, our society must shift towards a model based on a circular economy, resource efficiency and lower levels of consumption.

How can we break free of the linear "make, use, waste" model? The jury will be looking for products, materials, processes, spaces and concepts that will help to bring about a systemic change by using circular-ready materials and serviceconcepts.

➜ Lifestyle and home living as a statement/message/concept
Our lifestyles and homes can be very individual and express certain values and beliefs. Products, spaces and concepts can be a statement on socio political issues and trends or communicate a message.

Avant-garde furniture designs, one-off pieces, items produced in low volumes and installations ranging between expressiveness and purism, flamboyance and embellishment, a mix of styles and a juxtaposition of incongruous styles – all conveying inspiring artistic visions.

The competition will be divided into objects (products) and spaces (interior design concepts) .

➜ Objects
Each participant may submit up to 3 products addressing the above-mentioned themes. A full-sized model of the submitted product or products must already be available for presentation in the exhibition. The designs should be recent. Product entries are restricted to prototypes that are not yet in series production. At most, they may be in the preparation stage for series production. The products may have already been shown at other exhibitions or may have already featured in publications. Products may be entered from any of the following segments: Furniture, Home Accessories, Lighting, Floor Coverings, Wallpapers and Textiles, Smart Home, Kitchens, Kitchen Accessories and Outdoor.

➜ Spaces
Each participant may submit up to 3 interior design concepts addressing theabove-mentioned themes. The interior design concepts or spaces should bring the chosen theme to life and depict visions of future living. Each designer will be free to choose how to present their interior design concept within the following guidelines: It must be possible to display the concept on a circular area with a diameter of 5 metres (20 m2). Koelnmesse will provide each of the shortlisted interior design concepts with a stand area of 20 m2 with wall elements and lighting, plus a budget of Euro 5,000 with which to style and furnish their space. The nominees may also seek sponsors to support the realisation of their designs.

The panel of distinguished jury members will review the submissions at a meeting in October 2023 and shortlist twelve products and interior design concepts (nine products from the Objects category and three concepts from the Spaces category). Then, on the first day of the trade fair, the same jury will select the three winners of the Pure Talents Contest 2024 from the twelve shortlisted projects.
Submission requirements
➜ Up to three product images in JPG format (maximum 2 MB per image) can be uploaded when registering for the Objects category. Koelnmesse will print the entry onto A4 for the jury meeting.

➜ When registering for the Spaces category, entrants may upload a maximum of two floor plans and three renderings (drawings) of their interior design concepts. Koelnmesse will print the entry onto A3 for the jury meeting.
Evaluation Criteria
➜ Overall concept
➜ Independent nature of the design/originality
➜ Quality of the concept and vision
➜ Functionality/quality in use
➜ Quality of the design and its presentation
➜ The submission's sustainability and circularity potential, for example in terms of:
➜ Materials (renewable or recycled materials, reusable or degradable materials, minimal materials)
➜ Components (separability, modularity, reuse of existing components)
➜ Systems (product-service systems, design concepts, services supporting the whole life cycle)
Eligibility
The competition is open to students and professionals from all around the world from the fields of product design, interior design, industrial design, scenography, architecture, interior architecture or related disciplines, who are still in education/training or have been working in their field for up to five years.
Prize
One winner for each of the themes will be selected by the jury and will receive prize money of Euro 1,000. The shortlisted projects will be exhibited at imm cologne 2024 from 14 to 18 January 2024.
Entry fees

There is no entry fee to participate!
Tags
Official website
Official Website