Ro Plastic Prize 2023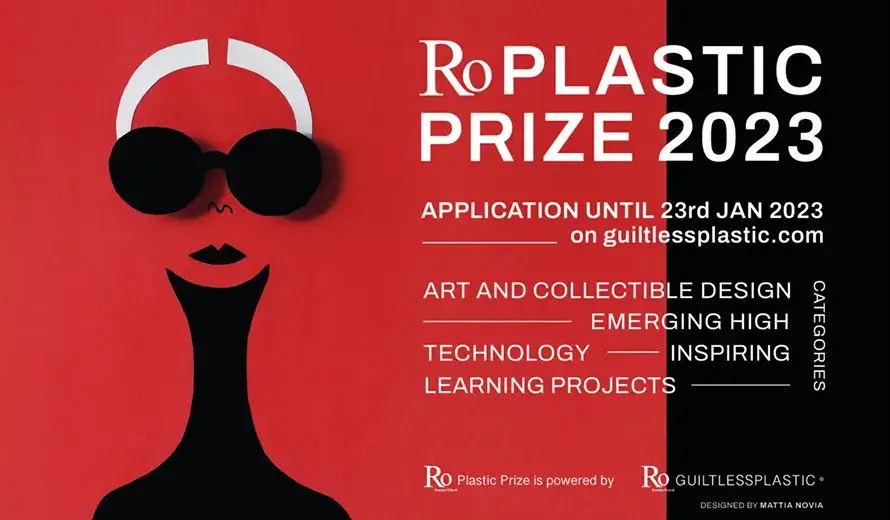 Ro Plastic Prize 2023 now is over!
Rossana Orlandi recently has launched the 5th edition of its Ro Plastic Prize 2023, one of the initiatives by GUILTLESSPLASTIC, to challenge and inspire the design community all over the world who are passionate about creating extraordinary impact proposing solving projects in the field of re-Waste.
About Competition
The Ro Plastic Prize is the international award of RoGUILTLESSPLASTIC that aims to involve an increasingly broad public challenging worldwide communities of designers, innovators, entrepreneurs, startuppers, change makers, creators, scientists, researchers, developers and communication experts who are passionate about creating extraordinary impact proposing solving projects in the field of re-Waste.

For the 2023 edition, the Ro Plastic Prize launches three new categories representing common high priority issues, involving re-Waste. Applicants are invited to propose projects to one or more of the categories and may submit pre-existing works and/or those submitted to other competitions.

Applicants are invited to propose solutions to one or more of the categories and they can apply with projects already existing and/or submitted to other competitions.

The International Jury composed of professionals and experts will select the winners, one for each category, who will receive a prize during the Award Ceremony. During the Milano Design Week, the Ro Plastic Prize Finalists will be the protagonists of a special exhibition curated by Nicoletta Orlandi Brugnoni.

Exhibition of the Finalist Projects during Milano Design Week is scheduled for 17th – 23rd Aprile 2023.
Categories
1. ART AND COLLECTIBLE DESIGN

The volume of plastic produced and disposed of has fallen significantly in recent years, thanks to the widespread awareness campaign that has galvanized technological research to invest in the regeneration of plastic. This has resulted in innovative materials and uses that have converted most industrial production into sustainable ones. The new approach to this material, imbued with an ethical and responsible message, has influenced and inspired the international creative community. Works and creations, made from materials produced from recycling, reusing and/or up-cycling plastic, are now part of the portfolios of famous artists and designers around the world and are featured in exhibitions in international museums, exhibits and fairs.
Visual art and collectible design are embracing infinite forms of plastic with an unprecedented creative explosion that has increasingly impacted the collections of private individuals and the interest of auction houses and galleries.For this category, established and non-established artists and designers are encouraged to enter artworks, collectible design pieces, limited editions or unique one-off designs that utilise and maximise the various possibilities for reusing, recycling and/or up-cycling plastic. An essential aspect is that these works are able to harness interest within the world of international collecting and the art market. Accepted submissions (both indoor and outdoor) include installations, videos, photographs, NFTs, sculptures and performances without any restrictions.

2. EMERGING HIGH TECHNOLOGIES

The world's catastrophic levels of pollution, the loss of biodiversity, the reported depletion of fossil resources, and the water and climate crisis are some of the reasons why global research and industry have made huge investments in highly innovative technological projects and products, successfully turning problems into opportunities: one in particular is WASTE.

Waste – the target of scientific and technological research that has turned its minus value into an asset– has generated a veritable High Technology Industry focused and developed on both the reuse of waste materials produced and economising the resources used for manufacturing.

For this category, researchers, students, universities, companies and industries are asked to submit new and emerging innovative research and/or industrial projects, based on a proactive approach to Waste that features significant high-tech performance and contemplates the reuse of production waste, the reduction of emissions into the environment and climate-friendly solutions that can increase the resilience of ecosystems by adapting lifestyles to new climate changes. The intent is to integrate technology and design to reduce energy use while maximising personal comfort, also focusing on buildings, streets and public spaces.

3. INSPIRING LEARNING PROJECTS

The circular economy generated by re-Waste is the key paradigm to concretely achieve social and environmental sustainability that is now unanimously and globally recognised.

To bring about this transition, also prompted by re-Waste, trained professionals are increasingly needed to develop, produce and manage new technologies capable of implementing this change. For this reason, the current school system (education and training) also urgently needs to address this issue by establishing outreach, education and training projects that include the approach and access to these new professions.

The research, production and industry sectors worldwide urgently need projects to spread awareness and knowledge that target various age groups, and are able to motivate, stimulate and inspire new generations of students to choose technical and professional paths on this issue.
Submission requirements
➜ In the application phase, projects must be submitted as sketches, photos, drawings, renderings or videos, appropriate to convey the scope of the project.

➜ Projects for the Art and Collectibles Category must be exclusively made from re-used, recycled or up-cycled plastic and the selected finalists are required to present their projects with prototypes in scale.

➜ Please submit all material (slideshow, presentation, videos, images, …) as specifically requested in the application form as well as all information to properly evaluate the project presented. The maximum upload file size for each photo is 2MB and videos should be submitted through a link to a YouTube or Vimeo channel.
Evaluation Criteria
Each submission will be evaluated by the Prize's International Jury, according to each category, on the following parameters: aesthetic, innovation, functionality, environmental and social impact, sustainability and responsibility criteria, dissemination capacity, empowerment of the quality of life, energy saving, targeted education/training, purposeful learning, promotion of innovative culture, sense of cooperation, creation of collective belonging, capacity to inspire.
Eligibility
The >STRONG>Ro Plastic Prize>/STRONG> is open to >STRONG>creative talents>/STRONG> from all countries, backgrounds, curricula and ages. Parental consent is required if the applicant is a minor at the time of registration.
Prize
The winners of each category will receive a prize of 10.000€.
Entry fees

There is no entry fee to participate!
Tags
Official website