Sock It to Me 2023 Design-A-Sock Contest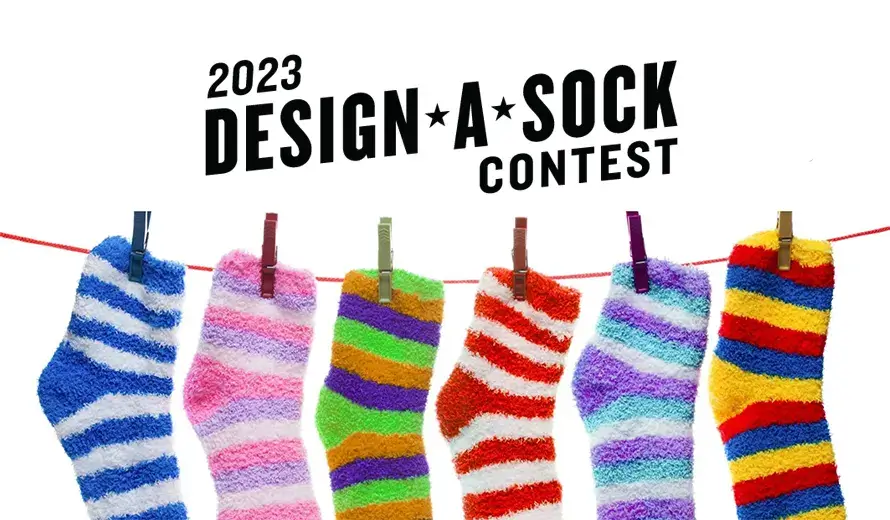 Sock It to Me 2023 Design-A-Sock Contest now is over!
Sock It to Me, a fun, clever, design-focused sock brand, is hosting new edition of its Design-A-Sock Contest for 2023 inviting all fans and artists around the world to enter and design its own socks.
About Competition
Design-A-Sock Contest, held annually by Sock It to Me, has been recently opened for entries now in its 19th year for 2023 inviting all fans and artists around the world to participate. This is your chance to design your own socks, and maybe win the opportunity to see it produced.

Sock It to Me has been hosting this design contest every single year since the company was founded in 2004. It has been a fundamental and extremely crucial backbone of the company, as the competition has steadily and powerfully contributed to Sock It to Me's growth year after year.

Participants are invited to submit unique sock designs.

You can submit maximum of 5 original entries per person, and maximum 6 colors per design can be used.

The organizers are looking for designs that they don't already have (take a look at their current line on the official website to see what is already available). Also avoid complex details or gradients as these are difficult to translate onto a sock. You can design any style you want (crew, knee high, etc.), though that might get changed during production.

Approximately 30 semi-finalists will be chosen and offered for public voting between 14th August and 20th August, 2023. The semi-finalist judging and finalist voting will be based on the following criteria:

➜ Simplicity of design
➜ Use of a maximum of six colors
➜ Use of colors that are flat and solids, NO shading, blending or half tones
➜ Use of pattern
➜ Originality

The judging to select the 3 winners will be based on all of the above finalist criteria, plus the additional following criterion: Use of imagery, themes, patterns, or designs that are different from our current line.

Any socks produced, are created with the artist's permission first. If they like a design that doesn't win, they'll contact you to see if you are interested before they move forward with production.
Eligibility
This contest is open to entrants of all ages for a maximum of five (5) original entries per person.
Prize
The winner will receive a $2,000 cash prize and their sock will be produced in one of the company's future product lines. Second place will win a prize of $1,000 and third place will receive $650.
Entry fees

There is no entry fee to participate!
Tags
Official website