2021 China Hardware Products Design Competition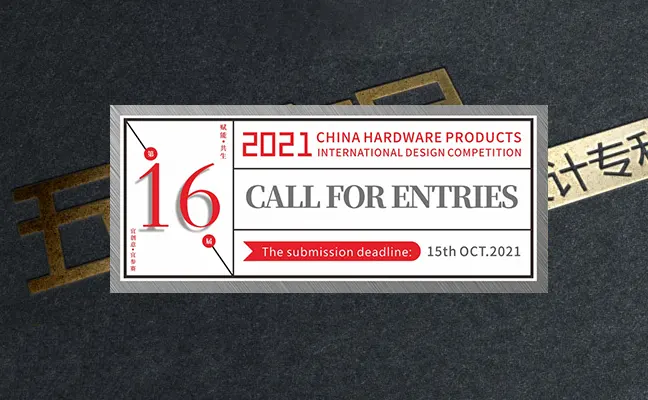 2021 China Hardware Products Design Competition now is over!
The 2021 China Hardware Products Design Competition is now open for entries in its 16th edition and like every year invites designers from all around the world to participate in order to improve innovative design ability of hardware and promote hardware product development in China.
About Competition
The 2021 China Hardware Products Design Competition, now in its 16th edition is open for entries inviting designers from all around the world to participate!

China Hardware Product Design Competition, organized by Hardware Industrial Design Demonstration Base of Zhejiang, the Yongkang Science and Technology Bureau and the Yongkang Economic and Information Bureau, has been held for 14 times since its foundation in 2006. As an international design competition, it attracts participation of designers from dozens of colleges and universities, design companies as well as independent designers from more than 20 countries and regions around the world.
Categories
​➜ Feijian Smart Cup/Pot Design – Titanium cups, children's cups, sports cups, thermos pots, stewed beakers, glass cups, plastic cups, smart cups, filter cups, sterilization cups and other smart thermos cups and pots.
​➜ "WONLY" Smart Door & Lock Design – Security Door, Smart Door, Smart Lock Design
​➜ "Yongche" Rail Transit Equipment Design – Rail Transit Equipment
​➜ "Miji" Kitchenware Design – Cookware, Kitchen appliances
​➜ "QingMu" Outdoor Leisure Product Design – Leisure Table, Leisure Chair
Submission requirements
​➜ Entries must be original works of the participant.

​➜ Format of the entry: JPG file, A2 (420mm*594mm), 300dpi, vertical version, no mre than 5M. One entry is limites to 1 layout.

​➜ The entry layout is composed by the following contents: category of competition, more than two main views of the product, design instruction, title of the entry.
Evaluation Criteria
​➜ Innovation (30%): The entry has an innovative concept, appearance and shape design, can reflect a unique design concept, has a strong visual appeal, or provides users with a unique experience.
​➜ Forward-looking (20%): Entries should reflect the high integration of design, technology, and humanities. Apply high-tech results to solve existing problems.
​➜ Functionality (20%): The entry should have certain functions (including practicality, comfort, safety, ease of use, man-machine, user interface) in the economy, society, and people's lives, and also produce positive effects.
​➜ Technical (20%): The entry should fully consider the application of materials, as well as processing technology, and has good versatility and technical feasibility, or optimization for manufacturing links, through design to reduce enterprise costs and improve enterprise economic benefits.
​➜ Sustainability (10%): In the entire entry life cycle of design, production, material selection, manufacturing, and using, can reflects the concept of energy conservation and environmental protection, and is environmentally friendly.
Eligibility
This competition is open to all enterprises, colleges, institutions and individuals. If participating in groups, each group of designers should not exceed 3 people.
Prize
In each of five categories, there is one golden prize, two silver prizes, three bronze prizes, and five excellent prizes as well as several Entry prizes and Excellent organization awards set. The 16th International Design Competition set up the Platinum Award, which will be selected from five categories and be awarded Platinum Prize of RMB 100,000 yuan.
Entry fees

There is no entry fee to participate!
Tags
Official website