2021 NFTE World Series of Innovation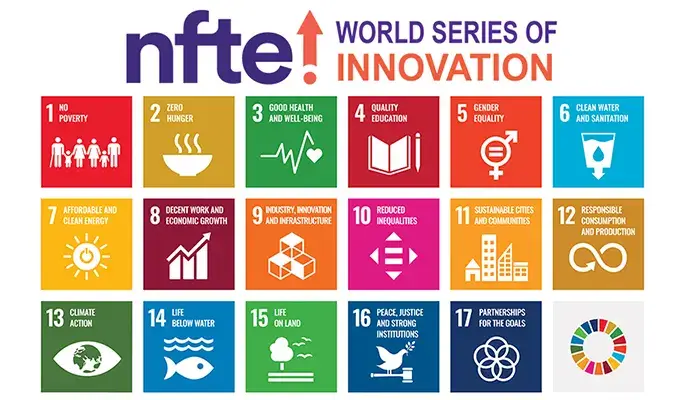 2021 NFTE World Series of Innovation now is over!
NFTE's World Series of Innovation, a global online international competition invites young people to get involved in solving some of the biggest challenges humanity faces today and advancing the UN Sustainable Development Goals.
About Competition
The World Series of Innovation, organized by Network for Teaching Entrepreneurship (NFTE) is a global online competition that invites young people ages 13-24 to come up with innovative ideas for tackling some of the biggest challenges facing the world today, from social justice to climate change.

There are seven innovation challenges being offered in the 2021 challenge cycle:

Bank of the West Move on Climate Challenge, SDG 13
Design a solution to help entrepreneurs and small businesses move the needle on climate while supporting economic growth and promoting a green economy

Citi Foundation Inclusive Growth Challenge, SDG 8
Design a solution to build a more just society by closing the racial wealth gap and promoting equity through inclusive economic opportunity.

EY Collaborate for Impact Challenge, SDG 17
Design a solution to help secure a livable future by promoting collaborative action on sustainability by business, government and civil society.

Mary Kay Gender Equality Challenge, SDG 5
Design a solution to promote workplace equality and equal access to economic opportunity for women and girls.

Maxar Community Resilience from Space Challenge, SDG 11
Design a solution using satellite imagery and other geospatial data to help communities become more inclusive, safe, resilient, and sustainable.

PIMCO Food Equity Challenge, SDG 2
Design a solution to address disparities in access (racial or other), to help ensure that all people have enough nutritious food and other resources to live healthy, active lives.

Saint-Gobain Sustainable Cities Challenge, SDG 11
Design a solution to promote use of sustainable building materials or create a circular economy in building construction.
Eligibility
Anyone between the ages of 13-24 may participate. You can compete solo or invite a few friends to join you and compete as a team.
Prize
More than $15,000 USD in cash prizes will be awarded to winners.

The three highest-scoring entries in each category receive cash prizes. The 1st place winner receives $1500. The 2nd place winner receives $600 and the 3rd place winner receives $300.
Entry fees

There is no entry fee to participate!
Tags
Official website