4th Cemer Dreams Come True Design Competition 2020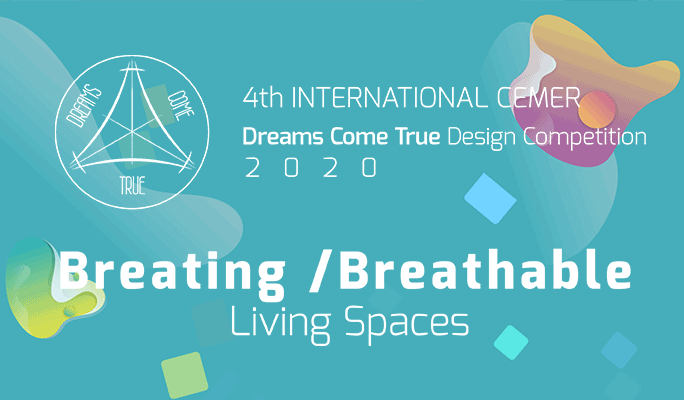 4th Cemer Dreams Come True Design Competition 2020 now is over!
International 'Dreams Come True' Design Competition is the 4th call for entries recently organized by Cemer that seeking for innovative and creative ideas for its 2020 edition.
About Competition
International 'Dreams Come True' Design Competition, now in its 4th edition is calling for entries, seeking for innovative and creative ideas for 2020!

The theme of this year competition is 'Breathing/Breathable Living Space'.

Professionals and Students are invited to submit designs that make existing and future urban living spaces more improved, more healthy.

Creating healthy and sustainable environments is crucial for children's playgrounds that contribute to future generations. Nowadays, it is seen that the number and quality of children's playgrounds are gradually decreasing due to the increasing population, lost green areas and unplanned urbanization.

Children's playgrounds are important places that bring children together, meet their need to play, socialize, and contribute to their physical and psychological development. These places contribute to emotional, sensory perception and communication skills by making children feel good.

The most important principles for the success of these spaces are; designing the playground by considering the natural and physical characteristics of the area, considering the game fictions while designing the playground and making these fictions visible in the design, and handling this design together with the structural & green elements and the existing and designed form of the area in a holistic perspective. Categories are:

❶ Area Design
❷ Student Product Design - to a student at the undergraduate or graduate degree.
❸ Professional Product Design

The scope of the Product Category is designing PLAY EQUIPMENT to create a BREATHING/BREATHABLE living areas which will contribute to children's spiritual and physical development to the children of today and tomorrow.

The theme of the Area Design Category is designing SUSTAINABLE PLAY AREAS for BREATHING/BREATHABLE LIVING AREAS.

What is expected from the competitors while they design the Play Area?
They are expected to create a play area that enables children to create various game fictions, to experience risk-taking and competing, and is open changes and development while reflecting the sub-theme they determined in the approximately 7000m2 area given by Cemer. Design should be innovative, modern, creative, environmentally sensitive, open to change and flexible, rather than a traditional, monotonous, uniform, stereotyped layout. Natural data (topography of the land, the presence/absence of existing plants, climatic data, relations with the environment, etc.) and interventions to the site (changing the land form, placement of play equipment and urban furniture, structural and green elements to be added, roads designed for circulation control, informative and restricting signs to be placed etc.) that is, all inputs and outputs of the design should be considered from a holistic perspective.

Each submitted project must:

➜ have not been produced before,
➜ have not been made available to the public,
➜ have not been placed in a similar competition,
➜ have not been awarded.

Competitors can participate in the competition in only one category (student or professional) with maximum 3 different projects.

The jury will be comprised of academic representatives of the related departments of the Fine Arts, Design and Architecture faculties, representatives of professional organizations and national and international professionals.

Evalutation criteria:

➜ experience offered during playing,
➜ innovativeness,
➜ authenticity,
➜ creativeness,
➜ practicability
➜ subheadings.

Prize ceremony will be held from October - November 2020.

There is no entry fee to participate!
Eligibility
Professionals and Students are invited to submit designs. It's possible to participate in the competition individually or as a team.
Entry fees

There is no entry fee to participate!
Tags
Official website