Arquine Competition No.24 | MEXTRÓPOLI 2022 Pavilion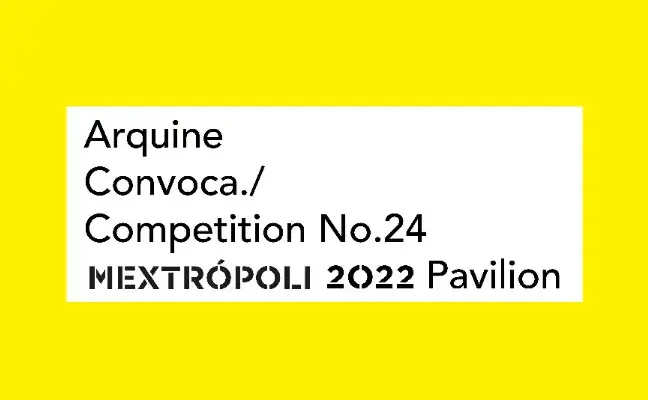 Arquine Competition No.24 | MEXTRÓPOLI 2022 Pavilion now is over!
Arquine recently has announced its international competition for the design and costruction of the Arquine Competition No.24 | MEXTRÓPOLI 2022 Pavilion, an installation in the public space of Mexico City that allows to promte its activation for the reflection of fundamental issues for the city, that express itself with a social vocation, and that is essentially recyclable and reusable.
About Competition
The Arquine Competition No.24, MEXTRÓPOLI 2022 Pavilion, organized by Arquine has been recently opened for entries!

The Arquine International Architecture Competition calls for the design and construction of a Pavilion that, inserted in the city temporarily, manages to generate, based on its own discourse, an innovative and sustainable proposal, which allows the development of an open and public program that builds a place for the interaction between architecture and citizenship.

Participants must design a structure that complies with the requirements that specify the rules of this competition in terms of time, cost and characteristics. The MEXTRÓPOLI Pavilion will become the benchmark per se of each edition of the Festival of Architecture and City.
Submission requirements
A digital image with the entirety of the project. The board must contain all the necessary information to explain and understand the proposal. It is essential that the submitted image contains, at least, the following:

➜ General plans and layouts of the project, including floor plans and sections, adequately scaled to ensure the comprehension of the plans.
➜ Diagrams, views, sketches, renderings, or any other form of visual representation that will help explain the project.
➜ Constructive details that are considered essential to explain the project.
➜ A 250 word-long (max) descriptive text. Any text or description can only be delivered in either Spanish or English.

The image or board must comply with the following format: rectangular in shape, 90cm long and 60cm high (horizontal display), 72 dpi, and only .JPG will be accepted. The file must be no larger than 5MB.
Evaluation Criteria
Competitors must project a piece that meets the conditions specified in the bases of this competition in terms of times, costs and characteristics, considering, as a fundamental part for the evaluation of the proposal, the ability to provoke and attract the public itself.
Results will be announced on February 17, 2022.
Eligibility
The invitation is open to architects and architecture students all over the world.
Prize
The 1st place winner proposal will be constructed and the winner will recive $100,000 Mexican pesos, the 2nd place will recive $50,000 Mexican pesos and the 3rd place $25,000 Mexican pesos.

The winning team will have to follow the progress of the work, providing Arquine the plans of the executive project for the development of the winning proposal and following up on its construction, through the channels agreed with the team Arquine.
Entry fees
To make your registration effective, you must provide a fee that will be given in two stages of registration:

➜ 1 stage (October 4 - November 30, 2021) - $1,250 MXN Peso or $60 US Dollar (International registration)
➜ 2 stage (December 1, 2021 - January 31, 2022) - $1,500 MXN Peso or $75 US Dollar (International registration)
Tags
Official website