Eurasian Challenge 2021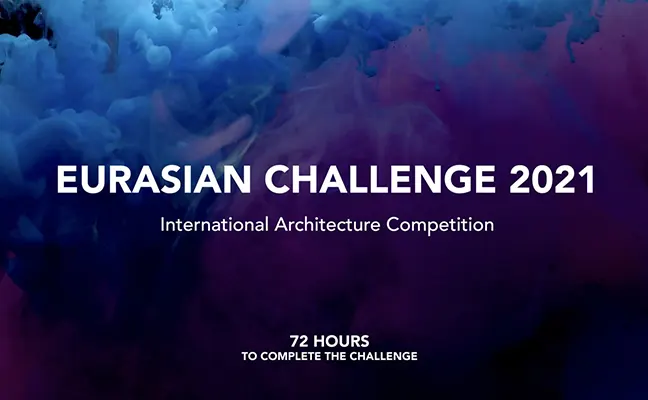 Eurasian Challenge 2021 now is over!
Eurasian Challenge, a 72 hours annual architecture competition, has been recently opened for entries inviting all students and architecture professionals to participate with a mission to find the most unconventional and creative responses and promote the most excellent designs.
About Competition
Eurasian Challenge recently announced for entries is about exploring direct and metaphorical ideas of what architecture can be and do. It aims to foster creativity and expand the horizons of architecture and its meaning in our lives.

Organiser mission is to find the most unconventional and creative responses and promote the most excellent designs to the global arena of the architecture industry. Eurasian Challenge reaches thousands of architectural designers annually and collaborates with international architecture firms, helping companies connect to the pool of their talented winners.

Eurasian Challenge aims to encourage critical thinking among the industry professionals and cultivate fruitful conversations and discussions on how to make our built environment a better place.

HOW TO ENTER?

1. You need to sign up for the challenge.

2. 1 hour before the start of the start of the competition countdown, you will receive an active link to download the brief within this year's theme and further instructions.

3. Within the following 72 hours, you will be required to submit your proposal
Submission requirements
➜ Submit your design proposal on a single A3 sheet (portrait), including minimum 2 visuals and a 200+ word text outlining your concept. Additional submission requirements will be included in the brief, which will become available 1 hour prior to the start of the competition countdown. File should not be larger than 2MB.
Winners and honorable mentions will be announced on the 9th of August.
Eligibility
Students and architecture professionals are welcome to take part in this challenge. Entries can be made either by solo participants or by teams of up to 3 people each.
Prize
The Laureates of the Eurasian Challenge get publicity, international awareness, recognition, prestige and credibility. There will be three winning tiers: First place, Second place, Third place and Honorable mentions. Each winner will receive a crystal Eurasian Challenge trophy, a publication on our website with their unique associated link to the winning project, a certificate and an opportunity to join Eurasian Challenge Jury Panel 2022.
Entry fees
Entry Fees for a Students cost $27 and for Professionals $35.
Tags
Official website