FUTURE HOME International Architecture Competition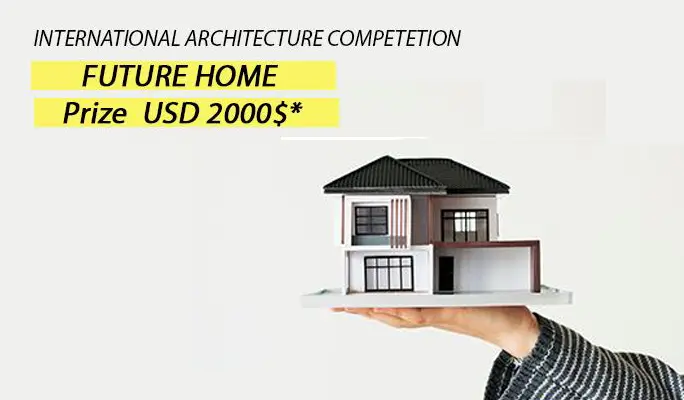 FUTURE HOME International Architecture Competition now is over!
The Archue is very pleased to present its FUTURE HOME International Architecture Competition, invites everyone to take a part with aim to understand how the future of dwelling will be for our future generations.
About Competition
The FUTURE HOME International Architecture Competition, organized by Archue now is calling for entries!

"A HOUSE IS MACHINE FOR LIVING IN" – LEE CORBUSIER
Dwelling (A House) remains the place where we all spent most of the time of our lives and experience architecture, learn connect to it through emotions. A dwelling represents our culture our backgrounds, ownership, safety. A dwelling is a place we all want to return where everyone finds comfort, despite how chaotic our lives are.
From the caves of the beginning of civilization to the smart homes, we are improving the quality of our dwelling's day by day with the development of various technologies, innovations in artificial intelligence and changes we are seeing in our day to day life. Organizer wants to understand how the future of dwelling will be for our future generations.
With the rise of many unknowns such as global warming, sandstorms, rising sea level, rise in urban population facing real life challenges in front of all of us to reshape our basic unit of living to deal with these issues.

Participants are welcome to add spaces as per their design and spatial requirements. Minimum spaces to be covered in the design.

Participants can submit old design projects or new design and they have freedom of site selection, area selection for the spaces, Scale of the building. Proportion of the built form to open space, distribution of interior areas and all the aspects of functionality, are left to participants' appropriate judgement and discretion.

Participants can select any site which will be best suited for their Dwelling Design.
Submission requirements
➜ Proposal need to be presented on 1 x landscape oriented A1 sheet.

➜ All text must be in English, with a max. 250 words for project explanation. The proposal may be presented using any technique of your choice (sketches, diagrams, 3D visualizations, model photos, CAD drawings, etc.). All dimensions should be imperial or metric unit.
Evaluation Criteria
➜ The competition aims to explore how the participants accommodate the simplicity of everyday life in the classic house design in an innovative way.
➜ Use of intelligent and appropriate design interventions with clarity and comprehensibility of planning.
➜ The evaluation criteria mainly entail participants to think through the basic functionality and navigation of spaces of the structure, thoughtful conceptualization behind design and aesthetics and expressive and evocative presentation.
Eligibility
The competition is open to all. No professional qualification is required. Design proposals can be developed individually or by teams (4 team members maximum).
Entry fees
Entry fee during the Early Registration Deadline (26th September - 7th November) cost $55. After that period ends the amount of the fee will increase.
Tags
Official website