Lavazza Smart Coffee Corner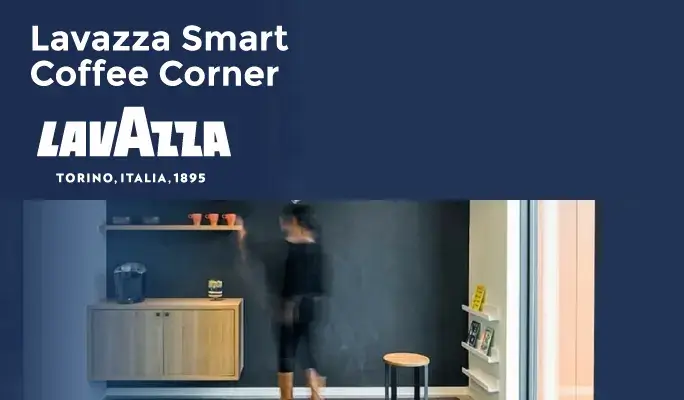 Lavazza Smart Coffee Corner now is over!
Lavazza and Desall recently has released new product design contest inviting you to design a modular furniture system functioning as a coffee break bar area, and which is adaptable to different types of environments and contexts of use.
About Competition
New product design contest has been recently organized by Lavazza and Desall inviting you to design a modular furniture system functioning as a coffee break bar area, and which is adaptable to different types of environments and contexts of use.

Lavazza is looking for a modular furniture system ("the system") functioning as a bar area dedicated to coffee breaks.
The strategic objective of the system is twofold: a) to enhance the user experience of coffee preparation and consumption within social contexts, be them private or public, and b) to spur users' engagement with Lavazza coffee products within those contexts.

The system should be:

1. Customizable - colours and materials can be changed easily; functional components and accessories can be added as needed.
2. Modular - modules can be seamlessly combined giving the impression of a single product.
3. Ergonomic - the ergonomics of the system should enhance the user experience
4. Lightweight - the system should be easy to carry, move around and assemble in only a few steps.
5. Environmentally sustainable - the system should feature a range of natural, recycled, and environmentally sustainable materials.
6. Economically viable - customers purchasing the system should be able to afford it.
7. Easy to clean - the system should have easy-to-clean surfaces, preferably without fissures and other elements that facilitate the accumulation of dirt.
8. Equipped with electrical and water connections - the system should allow for the connection of utilities (electricity, water networks…) required to perform its functions.

To optimally design and define the positioning of each functional component as part of the modules, participants are invited to pay careful attention to the actions performed by users when engaging with the system during coffee preparation and condiment operations.

The system should be made of sustainable materials whose "green" nature is clearly recognizable. Furthermore, the chosen materials should be food safe, easy to clean and remarkably durable.

The proposed projects should have a versatile style that adapts to the different contexts of use where the system will be installed. The preferred style is professional, modern, minimal and displaying great attention to aesthetic and details. Marked Lavazza branding on the external surfaces of the system is to be avoided.

For further all information wisit the official website.
Submission requirements
➜ upload all images in order to present your projects in the best possible way. The images in the gallery (maximum 5) must have a proportion of 4:3. Allowed file formats: .jpg, .gif o .png;, colours: RGB; max file size: 1MB.

➜ all texts provided with your uploads (abstract, description, tags, etc.) should be written in English.
Evaluation Criteria
➜ Functionality 5/5
➜ Aesthetic 5/5
➜ Technical feasibility 4/5
➜ Sustainability 4/5
➜ Consistency with the brand 3/5
Eligibility
Participation is open to designers and creative talents of any nationality aged 18 years or older.
Prize
➜ 1st prize winner - €10.000
➜ 2nd prize winner - €4000
➜ 3rd prize winner - €4000

For the duration of the option right, the Sponsor offers an extra chance to all participants setting a fee of Euro 4000 for the purchase of the license for the economical exploitation of the projects not-acknowledged as the winning proposal.
Entry fees

There is no entry fee to participate!
Tags
Official website