Tree House 2021 Architecture Competition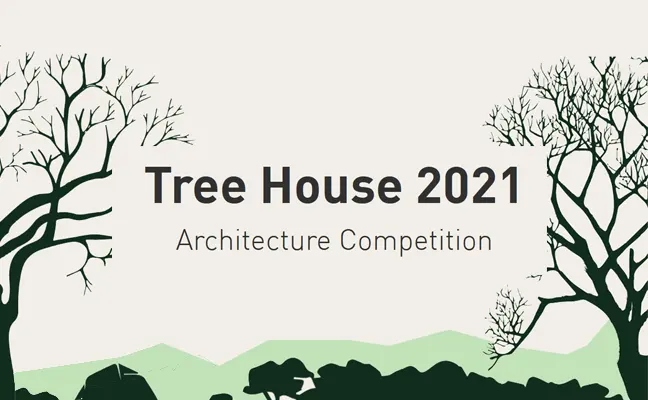 Tree House 2021 Architecture Competition now is over!
Tree House 2021 Architecture Competition has been recently announced for entries inviting you to re-imagine their childhood dream of living in a tree house in the wilderness, away from all the restrictions.
About Competition
Tree House 2021 Architecture Competition invities you to re-imagine their childhood dream of living in a tree house in the wilderness, away from all the restrictions. We all have always yearned for our personal space, one that takes us far away from our chaotic and stressful lives; our very own Home rooted in Mother Nature, one that reconnects us to our origins, rejuvenating our mind, body and soul. We all aspire for a home that is not just an extension of our persona but is also an expression of our individuality and freedom.

Our humble abodes are being redefined with every passing day. The world is changing constantly, and along with it, our homes are seeing us spend more time within them. Homes today are versatile entities – doubling up as offices, play areas, work-out zones, spaces for interaction and recreation, as also being an abode for our furry friends and providing for their needs but at the center of all things is essentially a place to escape and rejuvenate our minds.

For most of us, the Tree House has been a childhood dream, triggering our wildest imaginations. As adults, we continue to aspire for our very own Tree House, one that will fulfil our needs to lead productive lives. The Tree House is synonymous with freedom, independence, adventure, creativity, safety, warmth, fun, solitude and many more emotions aspired by children and adults alike.

Can we imagine our own Tree House, nestled in the lap of nature, atop magnificent treetops and under starry skies? Opportunity:

With the pandemic which is currently raging, more and more people have been staying at home a lot. Consistent lockdowns and tumultuous shifts in our daily routine, many people today are going through pandemic-related emotional stress and anxiety. With little to no contact with our natural surroundings, all of us today, all of us today dream of living more freely and openly with nature.

Research proves that all living beings need ample sunlight and fresh air to function as happy, productive individuals. A consistent contact with our natural surroundings is proved to make humans happier, while also helping them form better interpersonal relationships. Such a contact with nature also helps invoke positive emotions amongst humans.

We now have the opportunity to explore this vital relationship between ourselves and Mother Nature and the role well-integrated, sustainable architecture can play in amplifying this bond.

The Tree House 2021 looks at redefining a home as an active part of Mother Nature, with all the necessary amenities, resources required for productive living. The Tree House can be visualized to re-imagine sustainability through innovation of maximum usable space in a minimum footprint, suspended between the earth and sky, on spectacular treetops.

What is required?

Organiser invites you to imagine a way of living in the lap of nature, suspended amongst the magnificent tree, under the starry skies. The design of the Tree House should be innovative and creative, with a sustainable edge. The relation between the exterior surroundings and interior spaces must be taken into consideration. The proposed design should be well-conceptualized.

The Tree House would be the primary residence for 2 individuals and the area of the proposal should not exceed 400 sq. ft built up. Proposals may consider spatial flexibility fulfilling all the needs of their users.

The Space program for the proposal must include but is not limited to:

1. Living Area
2. Sleeping Area for 2
3. Cooking and Dining Area
4. Toilet space
5. Workspace
6. Recreation space
7. Any other function that the participant wishes to add to the Tree House

The design should centre on a unique character, one that reinforces and maximises our relationship with Nature.
Client Interaction is one of the critical components of the design proposal. For the purpose of this competition, entrants may assume an individual, couple, or a genre of people, based on the design concept.

The proposed design may also consider modern technological advancements in architecture to make the tree-house archetype adaptive to its surroundings, making it a comfortable home by eliminating any type of hazards.

Site of proposal:

Participants are to decide the location for the proposal, such as coastal areas, riverbanks, mountains, forests, or any urban environments. Choose your tree, dare more, design your treehouse.
Submission requirements
A single A1 sheet must be submitted in JPEG format (150 DPI Resolution), file size not exceeding 5 MB.
The winners will be announced on 29th October 2021.
Eligibility
Tree House 2021 - Architecture Competition invites architects, students, engineers, product designers, thinkers, companies, organizations and everyone interested in the mission of the competition to submit their ideas. No professional qualifications are necessary.
Prize
➜ 1st Prize: USD 2000 + Certificate + Publication
➜ 2nd Prize: USD 1200 + Certificate + Publication
➜ 3rd Prize: USD 800 + Certificate + Publication
➜ 10 Honorable mentions: Certificates

Winners and Honorable Mentions will be published on Volume Zero website and several international architecture and design magazines.
All the participants would receive participation certificate.
Entry fees
Early Bird Registrations:
Participants from India – 1800+18% GST = INR 2124 (per team)
Participants from Other Countries - 70 + 18% GST = USD 82.6 (per team)

Standard Registrations:
Participants from India – 2400 + 18% GST = INR 2832 (per team)
Participants from Other Countries – 85 + 18% GST = USD 100.3 (per team)
Tags
Official website