Tschutti Heftli 2022 Collectors Album Illustration Contest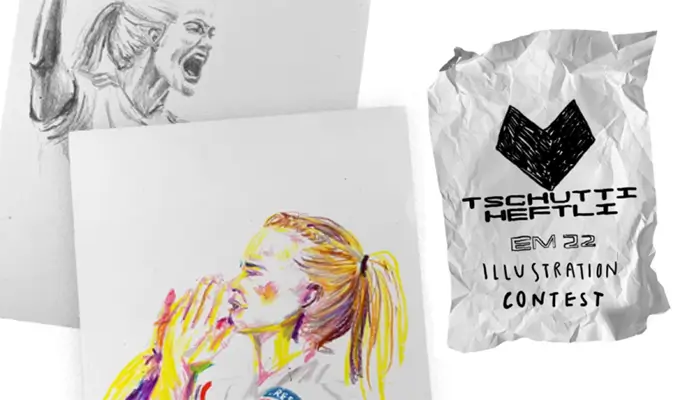 Tschutti Heftli 2022 Collectors Album Illustration Contest now is over!
Tschutti heftli, the Swiss football magazine is hosting an illustration contest for its 2022 football album and invites all illustrators to partecipate with they best works, designing a portrait of Ada Hegerberg, one of Europe's great footballers.
About Competition
Since 2008 we have been publishing a sticker album of a special kind: instead of boring photographs the tschutti heftli collector's album presents real works of art. All teams are designed by illustrators, graphic designers, cartoonists, and other artists. In order to find artists for their next album, their are holding an illustration contest.

For the eighth time tschutti heftli is taking care of the artistic highlight of the major sporting event. This time, it is taking care of the artistic highlight of Womans European Championship 2022 in England.

This year organizer inviting you to design a portrait of Ada Hegerberg, one of Europe's great footballers.

In addition to the main category, tschutti heftli also wants to promote young artists with the competition: children and teenagers born in 2008 or after are invited to draw a mascot for the Euro 2022 and name it.

The selected artists in the MAIN CATEGORY will be commissioned to design 11 players, a coach, and a nation's emblem (13 images in total).
Submission requirements
Your submition can be 2-D or 3-D, in color or monochrome, digitally or analogue, painted, pasted or drawn – whatever procedure suits you best for this task. You work need to be submited like digital (PDF or JPG), size not smaller than A4 format, at 300 dpi.

For the realization of the portrait, all techniques are allowed as long as there is no infringement of copyright laws. All works must be digitalized. Three-dimensional works must be photographed. Analogue submissions will not be considered.
Evaluation Criteria
Our Jury is free to select whatever artworks they find best. In general they will try to get as many different and original styles as possible to become a divers selection for the Album.
The winners will be personally notified until the end of Octover 2021. From November 2021 until the end of January 2022, the winners will have time to design their main selection.
Eligibility
It's open to everyone. Pro's, Students, Autodidacts, kids, teens, adults, artists and art lovers, football enthusiasts, designers, illustrators, and so on. Everyone woh wats to join an exciting project and get a large platform for his work.
Prize
The winners will have the privilege to design one of the teams of the Euro 2022 for the organizer legendary collector's album. The distribution of the album in Switzerland, Germany, and further European countries will offer you a great platform to present your work to a large audience. All artists represented in the album will receive a lump sum for their expenses, the amount of which will be determined by the sales figures of our album. In spring next year, the winners of the competition will also be invited to a trip to Lucerne and the album's release party, with travel expenses, board and lodging covered.

The best 11 mascots (selected by a jury under the guidance of the tschutti heftli team) will be part of the organizer collector's album. They will be made into a sticker for a special page in their album. One of them will be the official tschutti heftli mascot 2022. In addition, you will get an album complete with all stickers, plus a tschutti heftli surprise package full of great presents.
Entry fees

There is no entry fee to participate!
Tags
Official website