Vega Student Awards 2021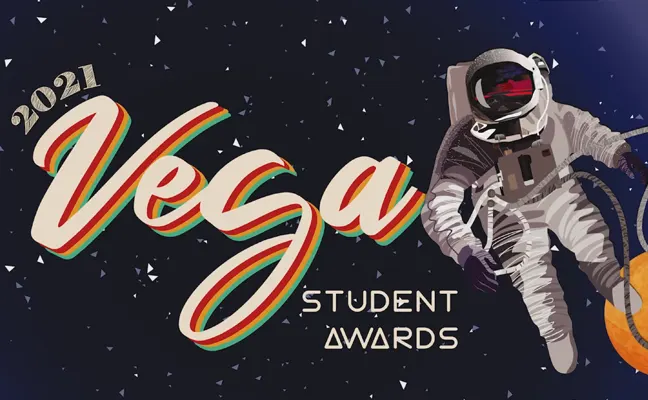 Vega Student Awards 2021 now is over!
The Vega Student Awards 2021, international competition organised by International Awards Associate (IAA), has been recently opened for entries and like every year honors student excellence in websites, video, mobile, social, animation, marketing, podcasts
About Competition
The International Awards Associate (IAA) is calling for entries to the 2021 International Vega Student Awards, created to recognize and honor exemplary young talents and the minds behind remarkable digital content.

Vega Student Awards intends to inspire young talents to ride the wave of this new era and make a name for themselves before approaching the professional world.

Entries must fall within a two-year window from their creation – 2019 to present.

The jury panel consists of leading institutional professionals from all facets of the creative industry.
Categories
➜ Outstanding Achievements
➜ Audio & Radio
➜ Content Marketing
➜ Digital Illustration
➜ Digital Marketing
➜ Games
➜ Mobile Apps & Sites
➜ Podcasts
➜ Social Media
➜ Video/Online Video
➜ Virtual/Remote Experience
➜ VR & 360 Video
➜ Website
➜ Wild Card
Eligibility
The Vega Student Awards is open to new and emerging digital creatives aged 18 or over without prior or significant experience in a paid creative role. To enter as a student, you must be enrolled full or part-time on a recognized Higher Education level course, anywhere in the world, on 1 January 2021.
Prize
➜ One professionally designed certificate commemorating the winning entry, which includes entry title, entering company/winners' name and category. Decal will be affixed indicating the level of win.
➜ Dedicated winners' page for all Vega Student Awards' Winners.
➜ Highest-tiered (Canopus) winners will be featured on Vega Awards site's Gallery, where professionals can view your work.
➜ A press release template will be prepared, which you will then be able to customize and personally send out to major media industry outlets, celebrating your achievements, and be utilized as a personal winning announcement/publicity tool.
➜ Professionally designed logos and badges for use on websites, in email signatures, etc.
Entry fees
Entry fee starts from $25 during the Early Bird Entry (26 May - 28 July, 2021) period and after that period ends the month of fee will increase.
Tags
Official website