VRAcademi Design Competition in 3D Environment Design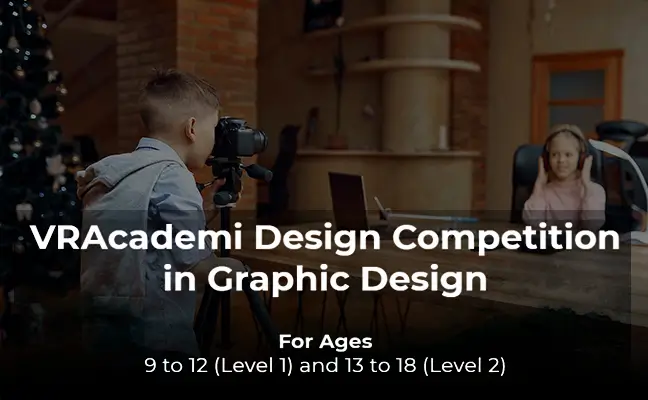 VRAcademi Design Competition in 3D Environment Design now is over!
VRAcademi Design Competition in 3D Environment Design is a global design competition recently opened for entries that invites young creative minds globally to showcase their design talents.
About Competition
VRAcademi encourages children from all over the world to participate in its global design competitions - VRAcademi Design Competition in 3D Environment Design.

There are three categories:

➜ 3D environment design (theme My City in 2121)

Plan and design what your city would look like in 100 years. Visualize and present how your city will operate and what infrastructure it may need in the future.

You may like to present how people can overcome personal challenges and how the environment in 2121 would influence your design of the future city.

➜ movie making (theme The Need of the Hour)

Show your perspective of what you believe is needed in our world today. These needs could be technological, sociological or behavioural needs that you think would make the world a better place today. "The need of the hour", captured in your movie.

➜ graphic design (theme Nature and Us)

Illustrate the relationship of how nature is connected with us. You may like to draw, paint or make a digital graphic, photoshopped image, or an illustration to show how we effect the nature or perhaps how the nature affects us.

Only original design ideas must be submitted for the competition.

The top 10 submissions from each category will be displayed and posted on VRAcademi's Facebook and Instagram pages and the public would have the right to like the submissions. The top 3 winners in each category would be selected by combining the marks of public likes and the scores made by judges.
The results of the competition will be announced on 15th October 2021.
Eligibility
This competition is dedicate for Ages 9 to 12 (Level 1) and 13 to 18 (Level 2). Participants can enter the competition as an individual or a small team of no more than 3 individuals.
Prize
The winners of each category will receive:

➜ 1st prize - Oculus Quest2 64 GB
➜ 2nd prize - $200 coupon of VRAcademi
➜ 3rd prize - $150 coupon of VRAcademi
➜ Runners-up prizes – 3 x $100 coupons of VRAcademi All participants will receive a gift voucher of VRAcademi worth $50 and a certificate of participation.
Entry fees
Early Bird registration closes on 31th August 2021 and if you submit during this period you will pay registration only $10.
Tags
Official website